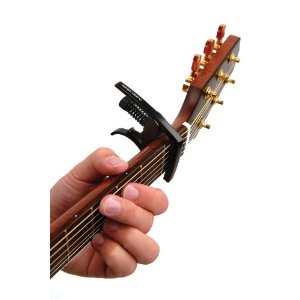 For those guitar newbies who are looking for a guitar capo in store and not sure which one to choose, here are some references for you to consider before you get one for yourself. You may now already notice that some guitar capos' pressure is adjustable and some which are not able to do so. Since you are only a beginner and playing only chords songs, you would probably wonder which type of guitar capo would be the best for you.
Planet Waves Dual Action guitar capo (available on Amazon US, Amazon UK and Amazon Canada) is one of our recommendation. This capo designed with adjustable tension plus quick on/off engineering. Sometimes you will find if you set the tension for the 2nd fret, it works up to the 5th without needed to re-adjust the capo's tension. The Planet Waves Dual Action is very affordable and comes in handy, plus with a lot of good reviews. Most people love it because of its light weight, doesn't pull the guitar strings out of tune, it works on almost all type of guitars and the most important thing- it is cheap! If you really do not like it after the try, you will not be out much!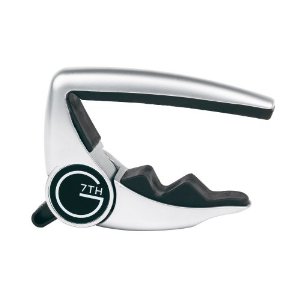 Another recommendation would be the G7th Performance Capo (available on Amazon US, Amazon UK and Amazon Canada). This guitar capo doesn't need you to adjust the pressure due to how it is attached to the guitar – by squeezing the capo on the guitar fretboard. The G7th Performance Capo is one of the great models in store and it is very well-made. The only thing people will be going to complain about this guitar capo would probably be the price – it is more expensive than other guitar capos. But do take this advice from us: you will get what you paid for!
Some peoples have the habit leaving their guitar capo on overnight and even for days. This is definitely not advisable as it may cause fret wear. Generally, guitar string wire is harder than fret wire, and leaving you guitar capo on may cause unnecessary fret wear. You will have the risk of leaving indentations in your frets and even on the finishing at the back of your guitar's neck. Therefore, you should always remember to remove your guitar capo as soon as you are done playing.
As we all know guitar playing is a very personal thing and each guitar capo has its own fans, there will be no right or wrong guitar capo. With this said, if you are still puzzling and don't want to take a chance, well, just get one of the 2 guitar capos recommended above and you should be doing fine.