Elixir Acoustic Strings 80/20 Nanoweb
Review by Don Roos
| | |
| --- | --- |
| My Overall Rating: | |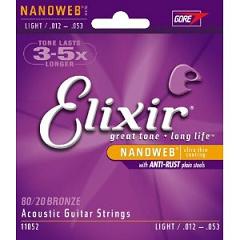 Elixir Nanoweb 80/20 is currently on sale on Amazon US / Amazon UK
I was looking for new strings for my Yamaha acoustic guitar. I had played on Ernie Ball and D'Addario acoustic strings, and I wanted to try something new and different. So I decided to give Elixir Nanoweb coating 80/20 with a try, after browsing through some good reviews online.
Generally, Elixir acoustic strings come in 3 major types: Polyweb 80/20, Nanoweb 80/20 and Nanoweb Phosphor Bronze. I opted for Elixir Nanoweb 80/20 after being told by a friend that Polywebs are a bit dull in tone and that Nanoweb coating is not as thick as the Polyweb. You will get a brighter tone, and the coating doesn't peel like the Polyweb.
So I put these strings on my Yammy. I found that they sound great and lively! The Nanoweb coating is so thin that it feels no different from playing an uncoated string. My guitar sounds beautiful; the tones are soft and bright. It is simply amazing!
Another great feature of Elixir Nanoweb strings is their consistency. They sound great when you first play them. And they still sound that good months later! Other strings may sound good at first, but after a couple of days, they start to sound dead. I've been using my Elixir Nanoweb strings for almost two months now, and they seem to maintain their original tone.
These are the best strings I've ever tried. You should try them out, seriously. Read more user reviews.


| Brand | Elixir |
| --- | --- |
| | |
| Model | 11052 |
| Type | Acoustic Strings |
| Wrap Wire | 80/20 Bronze |
| Coated / Non-coated | Nanoweb Coating |
| Gauge | Light |
| Consumer Rating | |
| Price Range | |
Other user's comment on Elixir Nanoweb 80/20:
O. BLGN

I have a 25 year old Yamaha FG-200D(Domestic model, made in Japan) acoustic guitar. When I bought it, it was around 200 – 250 USD. I always liked the way it sounded. It was always loud, bass rich, but a little dull in high tones. Recently I purchased a set of Elixir Nanoweb Light strings. Afterwards, it sounded so great that I won't change it for a thousand dollar worth Martin. I realized that the difference was not in high strings, it was the coated low ones which now sounds crystal clear and still rich. I strongly recommend to any acoustic player. [Read original review here..]
A clip from YouTube on Elixir 80/20 Nanoweb.
Tagged with: 80/20 • Elixir • Nanoweb • Reviews • Yamaha
Filed under: Elixir
Like this post? Subscribe to my RSS feed and get loads more!