Elixir Phosphor Bronze Strings
Review by Alex Graham
| | |
| --- | --- |
| My Overall Rating: | |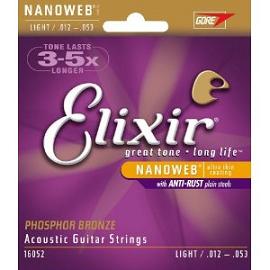 Elixir Phosphor Bronze Strings are currently on sale on Amazon US / Amazon UK.
Phosphor Bronze Strings have unique sound and character. But these strings are prone to dull out quickly due to natural corrosion. When guitarists playing their guitars, the oils and other contaminants on their fingers will corrode guitar strings. This will shorten strings' life. To combat these realities, Elixir Phosphor Bronze Strings had been introduced with Nanoweb technology – microscopic coating. They make your guitar sounds incredible in whatever extreme conditions.
I found Elixir phosphor bronze are above and beyond any strings I have played in the past. They can still sound the same even after 6 weeks of use. This had made them a very good choice for acoustic player like me who change strings often to keep that bright, clear and resonant tone. They may be a little pricey, but that's okay because they last longer than other brands.
I'm a tone freak and won't settle for anything less than that rich phosphor bronze sound. I'd tried earlier versions of Elixirs, though I liked the longevity, the sound wasn't satisfactory in my opinion. But Elixir Phoshpor Bronze string is totally a great find for me! These strings give me more confidence in my playing. Because they simply sound better, which of course makes my playing sound better too. The string noise is minimal and my fingers will just slide smoothly up and down the neck. They are making my $400 Ibanez AE F18 play like a $1200 Martin!
You have nothing to lose by trying these babies out. I assure you, Elixir phosphor bronze strings will make you a better guitar player. Read more user reviews.



| Brand | Elixir |
| --- | --- |
| | |
| Model | 16052 |
| Type | Acoustic Strings |
| Wrap Wire | Phosphor Bronze with Nanoweb coating |
| Gauge | Light:.012, .016, .024, .032, .042, .053 |
| Consumer Rating | |
| Price Range | |
Tagged with: Elixir • Nanoweb • Phosphor Bronze • Reviews
Filed under: Elixir
Like this post? Subscribe to my RSS feed and get loads more!