Most of us would love to try different types of acoustic guitar strings, as well as order in bulk for cost saving in terms of shipping. However, this will lead to a common concern, "How long a packaged guitar strings set will last? Is there any shelf life for these unopened strings?"
Generally none of the guitar experts, nor the maker could confirm the shelf life of an unopened new strings set, but advice is there to store these strings properly for longer lifetime.
Guitar strings which come in simple or unsealed packaging may indeed grow old on the shelf. You may want to put these new string sets into a sealable sandwich bag or ziplock. You may also throw in one of those little desiccant bags which normally come with many products. This will help to absorb any moisture. With this fairly "dry" storage environment, your new string sets should be able to last longer.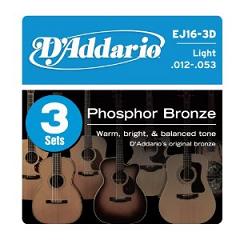 Another option is simply buy the D'Addarios to save all your troubles.
D'Addario strings are well-known with its eco-friendly packaging and come completely sealed. So in theory, a brand new and unopened set of D'Addarios strings could last for years. These strings produce a clean, clear sound and also hold their bright tone for a long time. The sound is very crisp and beautiful. They are prefect for any type or level of guitarists. Click here to check out what other people said about the D'Addarios.