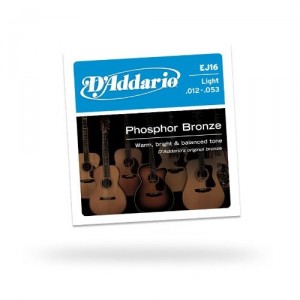 We often received inquiry about what is the best acoustic guitar strings for beginners? Most newbies did not know which acoustic guitar strings suit them the best and how to choose them. Most of their requirements are basically the same – they prefer strings which are easiest the press, will not hurt their fingertips and produce sweet tone in the same time.
While we understand individual player may have personal preference in strings selection, but in general, there are two type of guitar strings we would highly recommended to all beginners.
The first beginner friendly string you may try is D'addario EJ16 Light. These phosphor bronze strings always produce nice and sweet tone. Their price is very reasonable with the quality they delivered. For gauge selection, always choose the light gauge. Although the lighter the string is, the easier your finger to press, but extra light gauge will normally break easily. So choose the light gauge, instead of the extra light would be more ideal.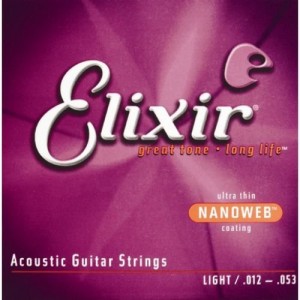 Another beginner friendly string you can consider is Elixir Nanoweb Light. These strings may not be the cheapest in store, but they are the toughest you could get. Elixir's strings durability is definitely unquestionable. They are as tough as stone!
Acoustic guitar strings are consider as low cost accessories. Therefore, we have good reason to buy a few packs of different strings to test on their playability and tone. This is why we always suggest readers to invest a little money into both D'Addario and Elixir to make a experiment themselves.
That won't hurt our pocket too much.